Philosophy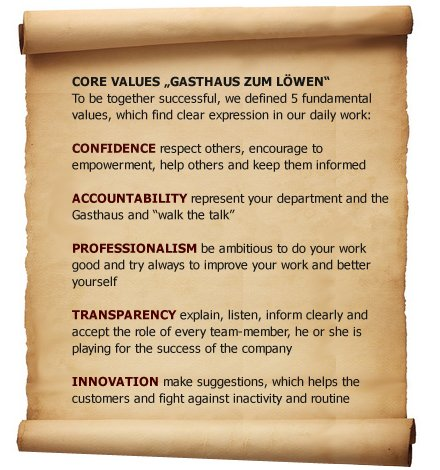 The "Gasthaus Zum Löwen" is a historical German Restaurant with guest rooms and summer garden. We serve German food in an appropriate value for money ratio in a warm and cozy atmosphere. The served quality of our services and products take always our highest attention.
We try to see our company through the eyes of our customers to always fulfill their needs and not only to realize their wishes even to exceed their expectations. We try to achieve the highest customer's benefit.
To reach this ambitious goal, we challenge and encourage our employees; only satisfied team-members can satisfy customers.
The terminology "problems" doesn't exist for us, we speak from "challenges" and provide solutions. We interact in partnership with our suppliers. We lead an ecology orientated company to protect the environment.
We want to maintain and develop our market leader position in Frankfurt-Sossenheim; if you stop trying to achieve the best you stop being good.
All our efforts results in a positive bottom line; the goal is to lead a profitable company to ensure the future.